Aims and Scope
Tássia Moraes de Assis Damasce, Vander Fernand, Cristhiane Almeida Leite da Silva, Ageo Mario Candido da Silva, Luciana Carolina Ishikawa Cezar Santo, Veronica Palmiro da Silva e Lima
---
Objective:
The study aimed to evaluate the influence of storage temperature on immunobiological efficacy and safety in autoimmune rheumatic disease treatment.
Methods:
This observational study included adult patients with autoimmune rheumatic diseases who used immunobiologicals stored at home and were followed up at the rheumatology outpatient clinic of the General University Hospital of Cuiabá, Mato Grosso, Brazil, in 2017/2018. Patients were evaluated regarding disease activity and occurrence of adverse events, and a household survey of the temperature of the storage environment of these drugs was conducted.
Results:
Sixty patients with a mean age of 50.4 years were evaluated. Of these, 39 patients (65%) stored their biological drugs outside the recommended temperature range. Storage of the immunobiological at the incorrect temperature was 76% higher among patients with moderate/high rheumatic disease activity (p=0.003).
Conclusion:
Most patients stored their immunobiologicals outside the temperature range recommended in the package insert, and there was an association between incorrect storage temperature and moderate/high autoimmune rheumatic disease activity.
---
June 29, 2020
Carter Thorne, Gilles Boire, Andrew Chow, Kirsten Garces, Fang Liu, Melanie Poulin-Costello, Valery Walker, Boulos Haraoui
---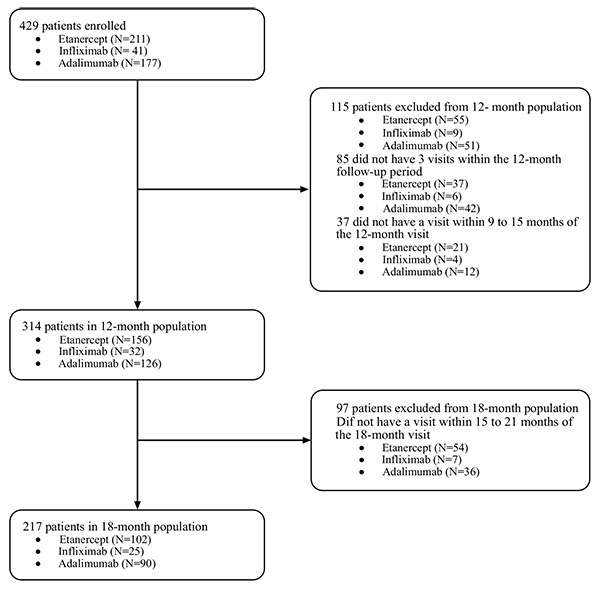 Objective:
To compare anti-TNF dose escalation, DMARD and/or glucocorticoid intensification, switches to another biologic, and drug and drug-related costs over 12 and 18 months for rheumatoid arthritis (RA) patients initiating etanercept (ETN), adalimumab (ADA), or infliximab (IFX) in routine clinical practice across Canada.
Methods:
A retrospective chart review of biologic-naïve adult RA patients newly initiating ADA, ETN, or IFX between January 01, 2006 and December 31, 2012 from 11 practices across Canada.
Results:
There were 314 patients in the 12-month analysis and 217 in the 18-month analysis. No dose escalation occurred with ETN over 12 and 18 months versus 38% and 32% for IFX (p<0.001) and 2% and 2% for ADA (p=0.199, p=0.218). Over 18 months, dose escalation and/or DMARD and/or glucocorticoid intensification was less frequent among ETN (16%) versus IFX (44%, p=0.005) and ADA (34%, p=0.004). By 18 months, 22% of patients initiating ADA had switched to another biologic compared with 6% of ETN patients (p=0.001).
Patients initiating ETN had lower total (drug and drug-related) costs over 12 and 18 months compared to IFX, and no difference compared to ADA when adjusted for potential confounders. Patients with dose escalation had higher costs compared to those with no dose escalation.
Conclusion:
Physicians were more likely to escalate the dose of IFX, but optimize co-therapy with ADA and ETN. ETN patients had no dose escalation and were less likely to have DMARD and/or glucocorticoid intensification than ADA patients. ETN-treated patients had lower costs compared to IFX patients.
---
October 24, 2017